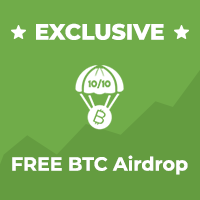 Free Satoshi
This is an exclusive airdrop to AirdropRating.io. Just follow the simple instructions and receive free BTC.
Airdrop Rating
Exclusive AirdropRating airdrop. Join directly on our platform and earn free BTC!
8.5 / 10
Airdrop Details
Token Given
Est. Value $
Time Left
Added At
1000
TBD
ENDED
Aug. 22, 2018
Receive free 1000 Satoshi (BTC) tokens with
Free Satoshi Airdrop
Exclusive Free Bitcoin (BTC) airdrop on AirdropRating!This is right, do not miss this airdrop while it is still active on our website! There is no catch and joining is very simple. Receive 1000 free Satoshis by following the simple tasks and extra 100 Satoshis for every referral. Airdrop can end soon so make sure to participate right away. This is the first round of our free Bitcoin airdrop. Next rounds will come in the future.

Satoshis (BTC) will be sent to your Bitcoin Wallet at end of September.
Joining is very simple!
1. Join our
Telegram Channel
.
2. Follow us on
Twitter
.
3. Enter your email.
4. Enter your BTC wallet address. 
AIRDROP IS OVER!

You joined the airdrop and have referred *.
Here is Your referral link:
Remember! You will get your tokens only if you followed all airdrop instructions:
If you do not follow all requirements, you will not get any tokens including referrals!
*This is the total amount of your referrals (confirmed/non-confirmed). You will only get tokens for the confirmed ones based on the snapshot that we will check before the token distribution.
Recommended!
Make sure to join all our Exclusive & Premium airdrops: